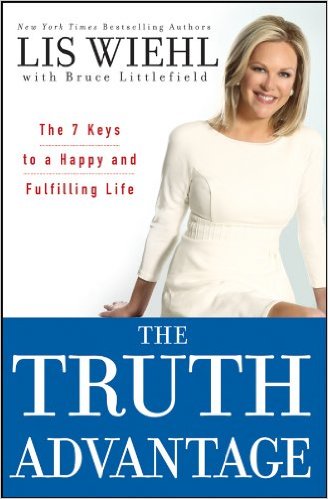 BUY THE BOOK
Drawing on the surprising results of the author's American Truth Survey, The Truth Advantage is the ultimate guide to putting your mind to rest, getting your life back on track, and making the most of every personal, social, and business relationship.
Studies have shown that most of us lie once or twice a day and deceive at least thirty people every week. We pay a high price for our lies — the mental energy it takes to concoct and remember them, the emotional stress caused by fear of getting caught in one, and the damage to our reputation when we do get caught  —but it doesn't have to be that way. In The Truth Advantage, prominent trial attorney and Fox News Channel legal analyst Lis Wiehl reveals that telling the truth is easier than lying. Telling the truth makes other people respect you and encourages them to be truthful with you. Honesty forges deep, powerful, and life-changing bonds that make every part of your life happier and more rewarding.
In this transformative guide, Lis Wiehl helps you become more forthright, less evasive, and true to your word. Using straightforward techniques that have helped her achieve positive results using truth in her own life as a mother and TV personality, she introduces the 7 keys to a Happy and Fulfilling Life. The Truth Advantage shows you how to become someone you'd like to have as a friend, as a colleague, and as a partner by discovering how to listen, get your facts straight, and choose the right time to deliver important truths.
Nobody's perfect, but for many people, the most difficult kind of truth telling is the admission that you have done something wrong or made a mistake. Citing examples from everyday life to very public scandals, Wiehl argues that honesty is always the best policy and gives practical advice on how to respond when confronted with your own misdeeds. Some people say hurtful things in public and excuse themselves by claiming they're just "being honest." Wiehl shares her time-tested ground rules for addressing hard truths with the people you care about with the least amount of pain and best chance of a positive outcome.
It's one thing to be truthful yourself — quite another to know whether others are being truthful with you. Using her Lie Detector Test, Wiehl gives you the way to determine whether you're being told the truth — not for the triumph of catching someone in a lie but to encourage greater honesty among friends, family, and coworkers.
This one-of-a-kind book will help you become the best, most powerful person you can be by using one uncomplicated tool — The Truth Advantage.